Why use an adviser
to buy a home?
More about buying a home:
More about buying a home:
If you're buying a home (or building a new one), you'll likely contemplate using a mortgage adviser, also sometimes referred to as a mortgage broker, to help you realise your homeownership dreams.
Advisers can present you with a wide range of lender products and interest rates, while guiding you through the whole process.
What is a mortgage adviser?
A mortgage adviser that is well-qualified and highly experienced works for you, helping you find the most suitable home loan and mortgage products and rates. Once they've helped you identify the right option for your situation, they can then manage your application process, advising you all the while to help you reach the best outcome for your circumstances.  
Mortgage advisers are paid by lenders when the home loan is drawn down. Borrowers (that's you) don't pay anything to their adviser for a standard residential mortgage. There may be a fee for commercial contracts or non-bank lending, this varies on a case-by-case basis. 
What does a mortgage adviser do?
In simple terms, the mortgage adviser will act as an intermediary between you and lenders. Initially, they'll help you assess your financial situation: your income, deposit size and credit history, to help you decide which type of home loan you should apply for. 
From there the mortgage adviser can present you with home loan options from the lending institutions they work with. The more lenders the adviser deals with, the more options you'll have to choose from. The number of well–regarded lenders an adviser can connect you with is a key deciding factor when finding the right mortgage adviser for you. 
The fact that mortgage advisers have longstanding relationships with lenders and expert industry knowledge means they have access to a multitude of products and various options and interest rates available. Their service can be invaluable  for this alone, in addition to their ability to answer all of your questions and guide you through the paperwork.
What's the difference between a mortgage adviser and a mortgage broker?
We are quite often referred to as mortgage brokers, however there is quite a difference between a mortgage adviser and a mortgage broker.  
A broker handles their clients' money through a specific part of a financial transaction — an adviser does not. A stockbroker for example would have a client pay them directly and the broker would in turn purchase shares on their behalf, therefore they actually 'touch' the client's money. With mortgage advisers, the lender pays the money to the client directly and the service we provide is free of charge.  
At Tony Mounce Mortgages we are mortgage advisers — providing you with a premier level of advice and assistance that only comes through a great depth of qualifications, industry experience, expertise and knowledge.
What should you ask a mortgage adviser?
When speaking with a mortgage adviser you need to make sure you are both on the same page — you want them to fully understand what your homeownership dream looks like and what you can realistically afford. Ask lots of questions and be ready to answer a good deal too. 
Ask them: 
How many lenders do you work with

?

 

 

If you're unsure about how they get paid… be brave

, 

ask them

!

 

 

Are there any 

house buying costs

 

I 

may not be aware of?

 

 

About any concerns you have. Remember they are working with you and want to be as transparent and reassuring as possible
Tell them: 
How long you plan to live in 

your new home

If 

you have renovations, alterations or extensions planned

General information about your situation

: deposit size, income

, etc.
The ups and downs — why use a mortgage adviser?
If your understanding of the 

home loan industry and how mortgages work

 is 

lacking

, using a mortgage adviser

 

can give you 

the 

confidence that 

comes with 

being looked after by someone 

who has 

your best interest

s at heart. 

Even if you have a reasonably good understanding

, advisers are great to ha

ve

 onside 

to fill in any 

gaps in your knowledge

 

Their 

established 

relationships with lenders

 mean they 

may be able to 

access products 

that 

you c

a

n't

 if acting alone

M

ortgage

 advisers do all the legwork for you

. This means they save you 

the time 

and effort 

involved in 

researching 

all the 

various 

home loan products

 that may be suitable for you. 

A

 large part of the stress

 and man

–

hours

 involved in 

securing finance to 

buy 

your 

home can be 

alleviated

 by 

using 

an adviser
Mortgage advisers can only show you options from 

the lenders they work with. This is 

fine if you choose a

n adviser who deals with 

numerous 

reputable lender

s (like Tony Mounce Mortgages)

, but not so much 

if go with an adviser 

with 

only 

few

of these relationships

A

s with all industries

, mortgage a

dvisers aren't 

all equal. When choosing 

an adviser

,

 it's important to find out about their level of 

qualification

s, 

industry experience and relationships
We're all about empowering our customers with the knowledge and assistance to get them where they want to be in life. Let TMO help pave the way to where you want to be.
First Home Buyer Success Stories
Simon and Katie buy their first home, and peace of mind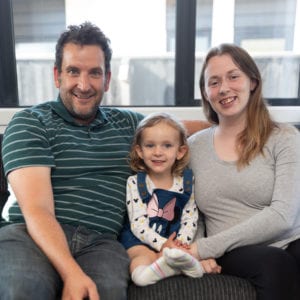 Location: Woodend, Cantebury
Situation: Buying first home and finding life insurance policy

We were looking to buy our first home and get life insurance in the process. We had tried to talk to our bank but found them difficult to deal with. We chose Tony Mounce Mortgages as our advisers because everyone we talked to was easy to deal with and talked us through every step of the process without any pressure. We spoke to them about our options and what it would take for us to get a mortgage, then went back to them a year later when we were in a position to go ahead.
A positive outcome without the stress
The outcome was perfect — we got a mortgage on the terms we wanted and have been able to build a beautiful home we designed ourselves.

The team stayed in contact with us every step of the way and made the process as smooth as it could be. We didn't have to spend hours on the phone with the bank arranging anything or causing needless stress.
Our experience was awesome, and we'll happily go to them again for any mortgage needs in future. They made every step of the process so easy, and everyone has been lovely and amazing to deal with.
You really feel like the team go above and beyond to get everything right for you.
Content for first home buyers
Read helpful blogs relevant to first home buyers, like you.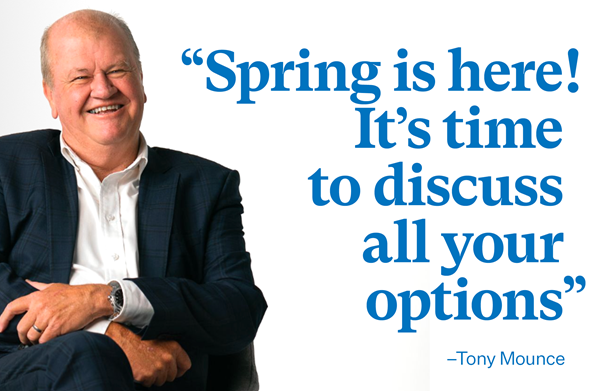 MORTGAGE UPDATE. NEW SPRING OPPORTUNITIES ARE UPON US! Despite what the markets are doing, there is nothing quite like the feeling of spring in the
Read more