Should I build a new house
or buy an established home?
More about buying a home:
More about buying a home:
There are indeed pros and cons to building a new house from the ground up, just as there are when buying an established home that is ready to move into. Both paths to home ownership affect your home loan options, finances, timelines, and the process you'll follow.
Read the pros and cons to each approach below and reach out to one of our advisers for more information to help you decide which is best for you. 
If you are considering a new build for your next home, it's important to fully understand what you're signing on for, as you'll no doubt become involved as an executive project manager who oversees the entire quote, design, build, finishing process.  
You can choose from two main types of new build: a house and land package, where a construction company or designer (or both) manage everything and you choose from a limited set of build and design variables; and a bespoke design that can be fully customised to meet your exact requirements (as long as they meet building code). 
There are different financing options available when building a home, dependent on the type of build you go for: 
Progressive Payments where the loan is drawn down for the land purchase (minus your deposit)

,

 and then the build loan is released in stages as and when the lender receives the invoices from the building company

Turnkeys are more common with house and land packages where you pay your deposit up 

front,

 but the loan does not draw down until the very end of the build, when you 'turn the key' to move into your new home
New builds are exempt from 

loan-to-value (

LVR

) 

restrictions

, so you may be able to 

get your home loan with 

less than 2

0% deposit

.

 

Trusting the 

purchase price and 

mortgage payments 

are affordable

, this can be an attractive option for first time buyers

 with a smaller deposit

 saved

House and land packages 

can 

be cheaper than 

established homes

 if the timing is right

 and the 

developer needs to 

meet a quota

. The first stage of sales can often

 be the cheapest

You 

have control over 

the configuration

 of your 

new 

build,

 and it may be 

faster to go down this 

path than 

it is to search 

for 

an established home matching your needs.

 

Keep

 

in mind 

your options 

will be 

limited if you buy off the plan

 (house and land package)

Generally

,

 you will 

experience lower utility 

and maintenance 

costs as new builds

 

are 

more energy

 

efficient

 due to their 

modern building materials

, new appliances 

and 

the fact they 

are more airtight and better insulated than 

older houses.

 This means they are 

more environ

mentally friendly

 

too
Home loan l

enders 

have 

different conditions for 

'

construction loans

'

. 

One is 

that the build must be completed or at least started

 within a certain number of days of settlement

. 

They are

n't

 likely to lend as much

 for 

building contracts that aren't 

fixed price — they prefer the certainty 

of 

'fixed price'

 rather than a 

'labour only' contract which 

sees you in charge of 

buying the materials

. 

Lenders 

can be 

wary of 'labour only' contracts because 

these builds 

are more prone to 

going over budget

Land prices can vary widely depending on the demand and the location you're looking at

. It 

may seem cheap to build a new house, but the cost of the section may 

narrow

 your location options depending on your budget
Buying an established home
Buying an established home can represent a more 'what you see is what you get' home buying experience. This creates both upsides and downsides to the prospect. 
Building 

defects 

are sometimes more

 visible

 in an established home

. 

Issues 

that don't jump out at you when viewing the property will hopefully be identified during a 

building inspection completed by a qualified professional

 (which isn't an option with a new build)

 

 

People often say 

established homes ha

ve

 a certain amount of character to them, a

t least more so than most new builds

 

When house hunting you can 

get a feel of the neighbourhood

 you'll be moving into

 —

 how busy the traffic on your commute is, 

what schools and amenities are near

by

, and what's missing. This is in contrast to 

building new in a developing area which may not yet have any of these things

You'll 

most probably have more location options as developments are 

moving further and further away from city centres. If you like to be 

close

 to work, 

buying an established home 

could 

give you more 

options
If you pu

r

chase

 a house that requires renovations

, these

 

will be a cost you'll 

need to consider

. The cost should be measured financially

,

 

and

 in 

hour

s

 of your time if you are indeed handy enough to 

DIY

Your hunt may take longer

 depending on how 

flexible 

you are and how common your desired configuration

 is

You'll 

be working with the selling party to get the deal done, be they the 

homeowner or a real estate agent

 acting on their behalf

. Putting offers forward and having them rejected 

can be a stressful and frustrating proposition for some would-be buyers
A larger deposit may be required compared to constructing a new build

,

 due to loan-to-value (LVR) restrictions imposed by lenders
We're all about empowering our customers with the knowledge and assistance to get them where they want to be in life. Let TMO help pave the way to where you want to be.
First Home Buyer Success Stories
Simon and Katie buy their first home, and peace of mind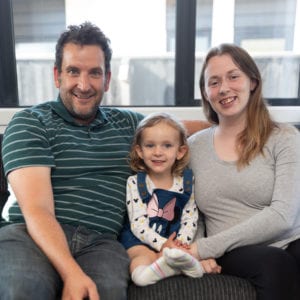 Location: Woodend, Cantebury
Situation: Buying first home and finding life insurance policy

We were looking to buy our first home and get life insurance in the process. We had tried to talk to our bank but found them difficult to deal with. We chose Tony Mounce Mortgages as our advisers because everyone we talked to was easy to deal with and talked us through every step of the process without any pressure. We spoke to them about our options and what it would take for us to get a mortgage, then went back to them a year later when we were in a position to go ahead.
A positive outcome without the stress
The outcome was perfect — we got a mortgage on the terms we wanted and have been able to build a beautiful home we designed ourselves.

The team stayed in contact with us every step of the way and made the process as smooth as it could be. We didn't have to spend hours on the phone with the bank arranging anything or causing needless stress.
Our experience was awesome, and we'll happily go to them again for any mortgage needs in future. They made every step of the process so easy, and everyone has been lovely and amazing to deal with.
You really feel like the team go above and beyond to get everything right for you.
Content for first home buyers
Read helpful blogs relevant to first home buyers, like you.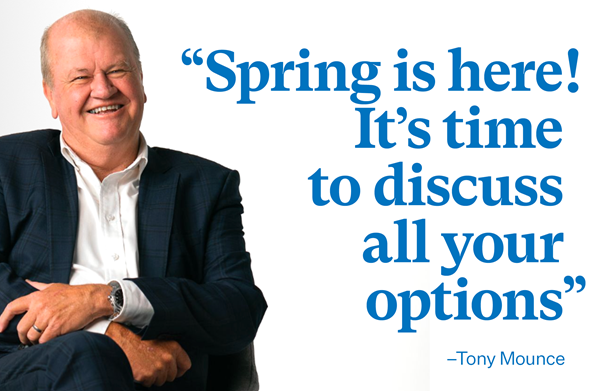 MORTGAGE UPDATE. NEW SPRING OPPORTUNITIES ARE UPON US! Despite what the markets are doing, there is nothing quite like the feeling of spring in the
Read more