More about buying a home:
More about buying a home:
Buying a house is likely the largest purchase you'll ever make and there's a huge range of factors to carefully consider when searching for your dream home. These can be broken down into four categories; type of ownership (freehold, leasehold, etc.), house type (weatherboard villa on quarter-acre, one-bedroom apartment, etc), house condition (is it liveable or does it need work?), and location (the neighbourhood, proximity to amenities, schools and your work etc.).
View our handy 'choosing a home' guide below and get in touch for more assistance. 
Think about which type of ownership is right for you: 
Freehold – Owners of freehold properties own their house and the land it sits on, the whole shebang
 
Leasehold – Owners of leasehold properties own the building they live in (house or apartment), but they don't own the land it occupies — they instead lease it, annually. There are different types of leasehold ownership agreements, and a leasehold review takes place at the end of the agreed term (anywhere from 5–20 years or more). These reviews usually see the lease price increase
 
Cross-lease – Multiple parties own a share of a freehold title in a cross-lease. This was a common way of subdividing property several decades ago. A cross-lease title often includes conditions that most definitely need to be reviewed by your lawyer. These might include having to ask the other shareholders (likely your neighbours) for permission before renovating or altering your house
 
Unit title (or strata title) – A unit title (sometimes referred to as strata title) usually applies to owners of apartments or attached townhouses. Holders of unit titles own the unit they live in and pay fees to 'body corporate' to cover costs like building insurance and the maintenance of shared areas such as lobbies/hallways/driveways/gardens. The body corporate is a membership, which all unit owners will belong to, including you
The right type of house for you
Think long and hard about what type of house will
best suit your lifestyle and family situation:
Living in a three- or four-bedroom house on a quarter-acre section can be 

a dream come true 

for a family. There's loads of space for the kids to 

hoon

 around outside and endless potential for keen gardeners, landscapers and those who like to stay up late tinkering in sheds (

yes — 

shed

s, plural, if 

you so wish

)

If you have a freehold title, t

here may even be potential to 

eventually 

subdivide 

or refinance 

to

 build your dream home

 in place of the current one
Just kee

p in mind that

 these properties require a lot more upkeep than many 

realise until after 

they 

move in.

 It can be a lot to take on

 if you already lead a busy lifestyle
If you

 want to live in a built-up city w

here apartment living is a viable option, then this can 

be a great way to stay close to 

work and the buzz of 

city life

City a

partment units can be 

cheaper than houses in the outer suburbs
M

ore affordable 

apartments

 are 

usually 

leasehold

 and don't come with any land

. A

s such

,

 

they 

 don't 

appreciate in value much and 

lenders 

can be more 

reluctant to 

lend against them

You may end up 

paying a larger deposit

 because of this

I

t pays to 

look to the future

 and ask yourself

: will

 

any 

potential 

situation change

s 

mean 

a

n 

apartment

 isn't suitable 

in the 

long term

?

 

T

hink kids

, 

lessening 

mobility

, retirement, etc

.

Being part of a body corporate isn't for everyone
Low maintenance town house
A

 one- or two-bedroom

 attached townhouse with a small garden and internal garage

 

means

 

less real estate to take care of

B

rick

 

construction is common

, 

and 

usually 

require

s

 less maintenance

 and 

repair

s

 

over the service life 

when compared to 

a weatherboard home

M

ay be 

more affordable

 for first-time home buyer

s

 

and 

easier going for those looking to downsize

, or both
If this is your first home

,

you may outgrow it

sooner than you think

Usually closer quarters with neighbours

than detached homes

Having a freehold title may not be an option
Think about how the house will be to live in and how many of your boxes it ticks: 
Does it have the right number of bedrooms

?

 

What

 direction does the house face

? 

Which rooms get all-day sun, and 

are any rooms 

sun-starved

 and damp

?

 

Is there space to 

extend

 and 

build another bedroom if you need to

?

 

Is the home structurally sound? A building inspection 

can identify 

most

 issues

Are the power

 

points plentiful and 

in the right places?

 

Is there enough water pressure

?

 (there's nothing worse than a 

dribbl

y

 

shower in 

the 

morning

!

)

 

What heating/

air conditioning sources are there? Will 

they suit your lifestyle? 

Think 

wood burners and buying/chopping 

firewood

 vs. turning the heat pump 

on

Are any 

renovations required

 for the house to be 

functional, 

warm, 

dry

, 

clean

 and 

cosy

?

 
Location, location, location​
When choosing an area, there is a lot to think about: 
Is the suburb within your price range?

 

Is it tranquil or is there lots of road noise and party houses

 nearby

?

 

Are you going to be close enough to your essentials?

 


Shops (a dairy)

 

Supermarket

 

A greenspace with playground

 

Public transport
Where is the nearest school?

 

Does the street have a sense of community and a neighbourly feel

 you want to be a part of

?

 
We're all about empowering our customers with the knowledge and assistance to get them where they want to be in life. Let TMO help pave the way to where you want to be.
First Home Buyer Success Stories
Simon and Katie buy their first home, and peace of mind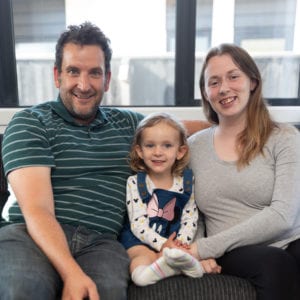 Location: Woodend, Cantebury
Situation: Buying first home and finding life insurance policy

We were looking to buy our first home and get life insurance in the process. We had tried to talk to our bank but found them difficult to deal with. We chose Tony Mounce Mortgages as our advisers because everyone we talked to was easy to deal with and talked us through every step of the process without any pressure. We spoke to them about our options and what it would take for us to get a mortgage, then went back to them a year later when we were in a position to go ahead.
A positive outcome without the stress
The outcome was perfect — we got a mortgage on the terms we wanted and have been able to build a beautiful home we designed ourselves.

The team stayed in contact with us every step of the way and made the process as smooth as it could be. We didn't have to spend hours on the phone with the bank arranging anything or causing needless stress.
Our experience was awesome, and we'll happily go to them again for any mortgage needs in future. They made every step of the process so easy, and everyone has been lovely and amazing to deal with.
You really feel like the team go above and beyond to get everything right for you.
Content for first home buyers
Read helpful blogs relevant to first home buyers, like you.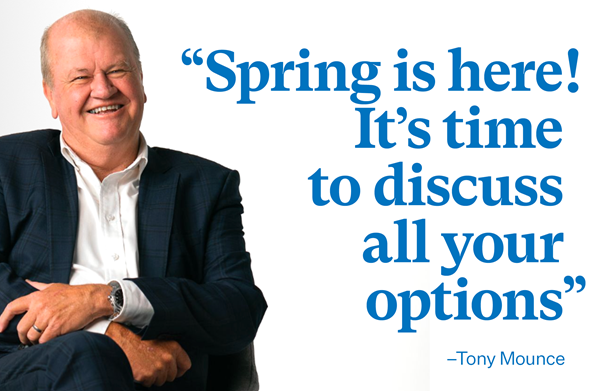 MORTGAGE UPDATE. NEW SPRING OPPORTUNITIES ARE UPON US! Despite what the markets are doing, there is nothing quite like the feeling of spring in the
Read more