More about buying a home:
More about buying a home:
Saving a deposit for your first home loan can seem like a monumental task. However, a calculated approach that leaves no stone unturned can make your path to home ownership much shorter and smoother. We can't do the saving for you, but our advisers can help you pursue the best options for your situation.
See the points below, use our home loan calculator, and get in touch to learn more about funding your first home.
Setting goals when saving for a home loan deposit
As with all saving, having a goal to shoot for when saving a deposit for your first home loan can make all the difference. Most lenders prefer a minimum deposit of 20% when lending to first home buyers, while in certain situations as little as 5% home loan deposit is accepted.  
Calculating how much you can save each pay period will help you get your head around how much you can spend on a house and how long it will take you to save enough for your deposit. Use our handy calculator to help you crunch the numbers. 
Setting up automatic payments that transfer a portion of your pay into your savings account each payday can help you achieve consistent savings for your home loan deposit. A budget that clearly distinguishes between wants and needs may help you increase the size of this portion, helping you to get your deposit together faster. 
Are you eligible for Government assistance?
Depending on your KiwiSaver status, you may qualify for a first home grant of up to $10,000 if you're building your home, or $5,000 if you're buying an existing property.  
The First Home Grant amount is per person so, if you are a couple building your first home, it is possible to receive up to $20,000 tax-free and non-repayable (as long as you live in the house for a minimum of six months). 
Visit our KiwiSaver and Government assistance page for more about first home grants, Welcome Home Loans, and withdrawing money from your KiwiSaver account to go towards your first home loan deposit.
Using a family member's property for security
Another option for family members or friends to help you is if they offer their own home or property as security for the loan.  
Offering the equity in their own property like this makes them a guarantor, and the risk they take on can be transferred back to you when the equity in your first home reaches 20% — either through loan repayments or a revaluation. 
It's very common for first home buyers to receive a helping hand from mum and dad (or other family and friends) when getting a home loan deposit together. This is called gifting.
Gifting sees family or friends contribute a portion of the funds required for your deposit, to help you qualify for your first home loan.
The party making the contribution will have no obligations to your lender, but you will need to show your lender where the gifted funds have come from and confirm that these funds do not need to be repaid.
We're all about empowering our customers with the knowledge and assistance to get them where they want to be in life. Let TMO help pave the way to where you want to be.
First Home Buyer Success Stories
Simon and Katie buy their first home, and peace of mind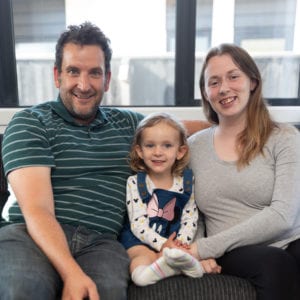 Location: Woodend, Cantebury
Situation: Buying first home and finding life insurance policy

We were looking to buy our first home and get life insurance in the process. We had tried to talk to our bank but found them difficult to deal with. We chose Tony Mounce Mortgages as our advisers because everyone we talked to was easy to deal with and talked us through every step of the process without any pressure. We spoke to them about our options and what it would take for us to get a mortgage, then went back to them a year later when we were in a position to go ahead.
A positive outcome without the stress
The outcome was perfect — we got a mortgage on the terms we wanted and have been able to build a beautiful home we designed ourselves.

The team stayed in contact with us every step of the way and made the process as smooth as it could be. We didn't have to spend hours on the phone with the bank arranging anything or causing needless stress.
Our experience was awesome, and we'll happily go to them again for any mortgage needs in future. They made every step of the process so easy, and everyone has been lovely and amazing to deal with.
You really feel like the team go above and beyond to get everything right for you.
Content for first home buyers
Read helpful blogs relevant to first home buyers, like you.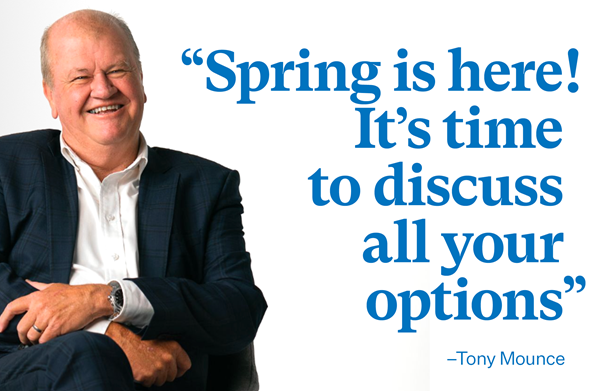 MORTGAGE UPDATE. NEW SPRING OPPORTUNITIES ARE UPON US! Despite what the markets are doing, there is nothing quite like the feeling of spring in the
Read more