Costs associated with
buying your first home
More about buying a home:
More about buying a home:
A lot of first home buyers come into the process thinking the purchase price, lawyer costs and their home loan repayments are the only costs they'll face. Some only discover the various associated costs as they happen upon them during their journey, which can be discouraging.
We've listed some of the types of costs that come up regularly, to help you better prepare for them.
A pre-purchase building inspection is a no-brainer and is essential for first home buyers who are seriously looking at purchasing a house — especially older homes. This inspection seeks to identify any issues with the building's structure and should be carried out by a professional builder or an established company that specialises in building inspections. Some lenders may condition your home loan approval subject to a satisfactory building inspection being completed.
The resulting report will help you make a more informed decision to apply for finance and make an offer or move onto the next listing.
Registered property valuation​
This is when a registered property valuer assesses the worth of a home in the current market. Their decision is influenced by the likes of a visual property inspection, resource consents, which neighbourhood the house is in, and data regarding comparable homes.
As with building inspections, many financial institutions will request a valuation before lending to first home buyers. This is because they need to know what the valuer thinks the house is worth (not necessarily the same figure as the seller's asking price) to determine what size home loan they can offer you.
Loan establishment / application fee​
It's common for lenders to charge an establishment fee when the loan is deposited into your account. This can also be referred to as a loan application fee and can sometimes be waived, depending on the borrower and which lending criteria they do or don't meet.
Borrowers who have a deposit of less than 20% may be required to pay a one-off fee or an additional percentage can be added on top of the interest rate offered due to the increased risk to the lender. Each lender has a different policy, so your mortgage adviser will be able to tell you if this will apply to you and how much this will be.
Home and contents insurance​
This is somewhat of a no-brainer as it pays to insure what will probably be your most valuable possession, not to mention all the stuff you keep inside it. You should have this in place starting from your settlement date as lenders won't lend to buyers without it.
Mortgage and income protection are designed to help maintain your ability to earn an income & pay your mortgage repayments if you are unable to work due to illness or injury. These benefits can be combined with Life cover, Health cover and Critical illness cover to ensure you have the best protection possible for you and your family.

Lawyer or conveyancer fees
Legal fees are a 100% necessary part of buying a home, be it your first, second or tenth. Some lawyers will have a set house purchase service fee with a 'no sale = no fee' rule, while some will charge by the hour regardless of whether or not your offer falls through.
Be sure to ask prospective lawyers and conveyancers lots of questions about their services and charges before you commit to one.
LIM (Land Information Memorandum) report​
A Land Information Memorandum (often referred to as a 'LIM report') is like the council's logbook for the property in question. It will feature all the records the local council has in regard to the property. It may include items like building consents, resource consents, transfers of land titles, cross-lease titles for shared driveways, zoning, etc.
Furnishing and finishing your first home​
When moving into your first home you may find yourself needing to purchase a lot of items to furnish and finish a house. This will be intensified if you are moving out of a fully furnished rental property, and even when you think you own most of the necessities like beds and a lounge suite, you may be surprised by how fast things like shower curtains, light shades, window dressings and a fireguard start to add up.
Pay special attention to the list of included chattels (oven, dishwasher, curtains, etc.) when house hunting and use this list as an indication of what you might need to spend to furnish and finish a house to your satisfaction.
If you do it yourself, moving into your new home will cost you less. You'll also not be covered should anything be damaged in transit. Should you decide to use a moving company, this cost can vary widely depending on the company you use and the distance you're moving and is something you should account for outside of your deposit and home loan.
Connecting services at your new home
Similar to moving between rental homes, when you move into your very own home there may be connection costs to have the likes of your power, gas, water and internet connected. This can be a great time to assess your relationship with your current provider and decide whether or not to use them again in your new abode.
Some first home buyers choose to use companies to help them streamline the connection process and get the best deals on their behalf. These companies earn a commission from the different service providers they work with.
If you have any renovation or alteration plans in mind for the home you're purchasing, it's important to carefully consider the costs that may be involved.
We're all about empowering our customers with the knowledge and assistance to get them where they want to be in life. Let TMO help pave the way to where you want to be.
First Home Buyer Success Stories
Simon and Katie buy their first home, and peace of mind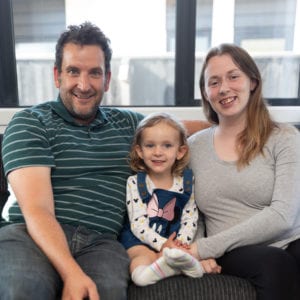 Location: Woodend, Cantebury
Situation: Buying first home and finding life insurance policy

We were looking to buy our first home and get life insurance in the process. We had tried to talk to our bank but found them difficult to deal with. We chose Tony Mounce Mortgages as our advisers because everyone we talked to was easy to deal with and talked us through every step of the process without any pressure. We spoke to them about our options and what it would take for us to get a mortgage, then went back to them a year later when we were in a position to go ahead.
A positive outcome without the stress
The outcome was perfect — we got a mortgage on the terms we wanted and have been able to build a beautiful home we designed ourselves.

The team stayed in contact with us every step of the way and made the process as smooth as it could be. We didn't have to spend hours on the phone with the bank arranging anything or causing needless stress.
Our experience was awesome, and we'll happily go to them again for any mortgage needs in future. They made every step of the process so easy, and everyone has been lovely and amazing to deal with.
You really feel like the team go above and beyond to get everything right for you.
Content for first home buyers
Read helpful blogs relevant to first home buyers, like you.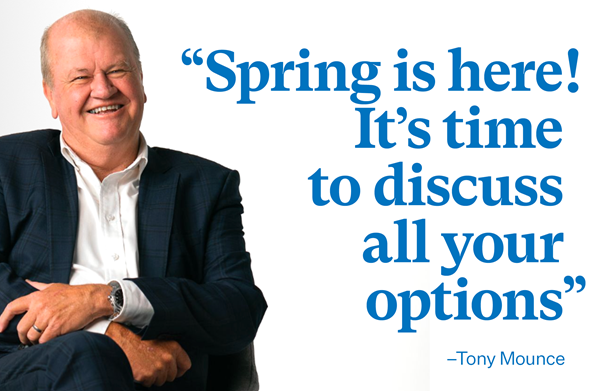 MORTGAGE UPDATE. NEW SPRING OPPORTUNITIES ARE UPON US! Despite what the markets are doing, there is nothing quite like the feeling of spring in the
Read more