More about buying a home:
More about buying a home:
Being in a position to buy your next home is very exciting. Your family may have expanded, you might be looking to upsize or even downsize, or you may want to become a landlord and create a passive income with a rental property. Whatever your motivation is, already owning a house can present a considerable amount of decisions that need to be made before taking any action.
Consider our points below and set up a meeting to discuss your options with a Tony Mounce Mortgages mortgage adviser.
The first step to buying your next home is evaluating your situation to help determine your options.
How much equity do you have in your current home?
If you're looking to buy your next house, you may have created some equity in your current home. This would have happened by way of reducing your mortgage via home loan repayments or making lump sum payments, or through your home appreciating in value (determined by a requested registered property valuation or the most recently published registered value [RV]).
The amount of equity you have built up will determine your finance options and ultimately, your buying budget.
What order of events will best suit your situation and plans for the future?
You'll have to decide if you want to sell your current home before buying your second home, or to buy your second home first and sell your current home after the fact.
There are also other options… would any of these work for you?
Renovate your current home to better suit your situation (e.g., add another bedroom, en suite; redo the kitchen or bathroom)
Hold onto your first home, keeping it as a property investment, renting it out to create a passive income
Subdivide your section, either selling the newly created section as a land package, house and land package (once you've had a house built on it) or using it to build (and move into) your dream home. And of course, you can always sell both sections and move elsewhere
Deciding how to sell your first home​
When you were buying your first home, you were subject to whatever sale method the seller had chosen. This time around it's you who gets to decide how the property is sold. There are a few methods of sale to choose from, each with their own pros and cons.
You'll have time to consider the offers, and therefore less pressure
Buyers can make informed decisions when submitting offers with a listed asking price
You can pick and choose which buyers and offers to negotiate with
If you have the patience, you can keep negotiating for the best deal
Can be done through a real estate agency, or privately
The offers you receive may have conditions that prolong the sale or mean you have to do things to the property
You have to determine your asking price before listing your home
With an auction there is no asking price — instead you only have to set a reserve (which isn't released to the public)
Your auction date is set in advance and a very keen buyer may put forward an attractive private sale offer before your home goes to auction. If you accept it there's no need for an auction
A bidding war at auction can push your sale price up if there are multiple interested buyers
Auction sales are unconditional, which means once the hammer drops as long as your reserve price has been met, your house is sold
If the bids don't meet your reserve but you decide they're close enough, you can enter negotiation with the bidders to complete the sale
 
You'll likely have to pay to advertise the auction, on top of any real estate fees
Auctions are very public, which some don't enjoy (especially if still living in the house)
Can only be done through a real estate agency or sole agent
You'll have time to consider the offers, and therefore less pressure
Buyers can make informed decisions when submitting offers with a listed asking price
You can pick and choose which buyers and offers to negotiate with
If you have the patience, you can keep negotiating for the best deal
Can be done through a real estate agency, or privately
Some house hunters are turned off by this more private method of sale by the fact that they may not be able to make offers on other listings in the meantime means this might be too restricting
Take stock of your current financial situation to help identify the costs associated with buying your next home and the different options you qualify for.
What's your home currently worth?
The value of your current home will help determine what you can afford to borrow, and if you will need additional finance to purchase your next home.
A registered property valuation can give you an idea of how much your home has appreciated, and what sale price to ask for when selling. You should also speak to a real estate agent, know your rateable value and do your due diligence around recent sales of similar homes.
How your home loan will be affected by your next home purchase
There are a couple of possible scenarios that can occur when buying a new home:
Taking the loan with you – Depending on the financial institution you borrowed from (and your situation), you may be able to take your home loan with you to your new home, sometimes without paying any fees. There are conditions which apply to this option so it's best to speak with your mortgage adviser before committing to your next home
Bridging the gap between selling and buying – You might need bridging finance to purchase your next home before selling your current home. Alternatively, you may need bridging finance if you have sold your current home and settlement for your new home does not coincide. Read more about bridging finance and get in touch for more information
We're all about empowering our customers with the knowledge and assistance to get them where they want to be in life. Let TMO help pave the way to where you want to be.
First Home Buyer Success Stories
Simon and Katie buy their first home, and peace of mind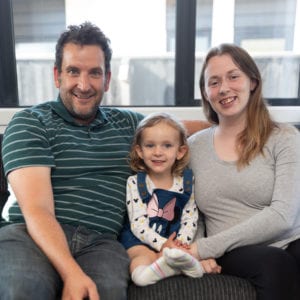 Location: Woodend, Cantebury
Situation: Buying first home and finding life insurance policy

We were looking to buy our first home and get life insurance in the process. We had tried to talk to our bank but found them difficult to deal with. We chose Tony Mounce Mortgages as our advisers because everyone we talked to was easy to deal with and talked us through every step of the process without any pressure. We spoke to them about our options and what it would take for us to get a mortgage, then went back to them a year later when we were in a position to go ahead.
A positive outcome without the stress
The outcome was perfect — we got a mortgage on the terms we wanted and have been able to build a beautiful home we designed ourselves.

The team stayed in contact with us every step of the way and made the process as smooth as it could be. We didn't have to spend hours on the phone with the bank arranging anything or causing needless stress.
Our experience was awesome, and we'll happily go to them again for any mortgage needs in future. They made every step of the process so easy, and everyone has been lovely and amazing to deal with.
You really feel like the team go above and beyond to get everything right for you.
Content for next home buyers
Read helpful blogs relevant to next home buyers, like you.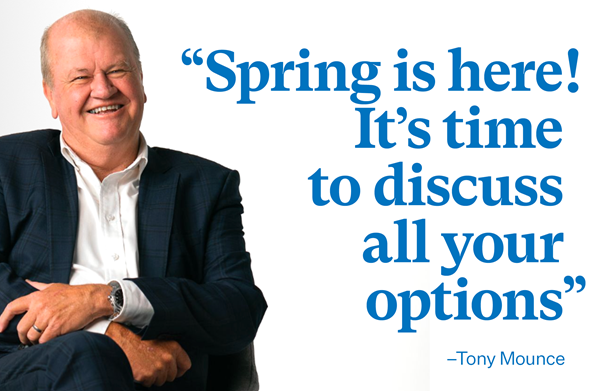 MORTGAGE UPDATE. NEW SPRING OPPORTUNITIES ARE UPON US! Despite what the markets are doing, there is nothing quite like the feeling of spring in the
Read more