Most people refinance or reposition their mortgage at the time their fixed-term comes to an end – which can make good sense, but that may not always be the best idea.
You don't need to wait to refinance or make changes. You can look at your options anytime with your adviser to determine what the best options are for you based on your current financial goals.
One great thing that may happen by doing this, is that you could get ahead of the game and potentially avoid a jump in your interest rate. You may even discover that you would like to buy an investment property now that the market is changing.
Why review your position?
In New Zealand around two-thirds of fixed-rate loans are due to roll over this year and interest rates are fluctuating – there is a lot of activity in the market! Now is the perfect time to talk to your adviser to see what's out there for you.
We have access to some great deals currently – with some of our lenders offering cash incentives up to 1% of your loan amount. If you decide refinancing or repositioning is for you, we will do the work to find the best package for you. With interest rates moving so rapidly at present, it really is an important time to be thinking about your mortgage.
The best thing for you might be to secure a good rate in the market now rather than wait until the end of your fixed term. Our advice is it's never too early to review what you have.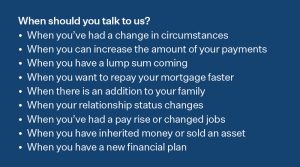 Why a mortgage adviser?
We know the finance angles and deals available. Because of our experience and strong relationships with our lenders, we can help you get the perfect result.
We have a wide range of clients – from the first home buyer to the clients who have a substantial investment portfolio with more than 100 houses in them. We've seen everything – the full spectrum.
At Tony Mounce Mortgages our advisers have over one hundred years of combined experience. Our 15 advisers collaborate to share all their collective experience, creating one massive knowledge bank for you. And speaking of bank knowledge, we might as well add that every single one of us comes from a banking background – we definitely know the ins and outs.
As we've previously shared, apply the "sleep test" – if your mortgage is keeping you awake at night, you need to talk to us. Get in early, let's review your loan and make a plan.